Happy New year friends and family!
It was a busy month of december which is why I wasn't around here in blog world as much as I wanted to be. But I've decided to come back refreshed and renewed for there is always a great feeling to a new month, year, or even day. Kinda cool how God allowed only 24 hours in a day when you think about it! It would suck if it were any shorter or longer.
I've decided to try something new called Five Friday Favorites! I'll be posting my 5 favorites of the week and plan to do it every friday, that way I can look back on these precious moments of life and be thankful.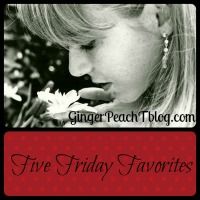 So if you'd like to join go right ahead. Just let me know when you do so I can check your friday favs out too!
Tim's bday was on sunday, so we celebrated by going out to eat at Jason's deli and then going to see Les Miserables at this really posh theater just down the road from where we live! It truly was a treat and I loved the movie. Yes I did cry, but only when Anne sang "I dreamed a dream". I was trying not to cry too loud, but it happened. Also the duet of "A little fall of rain" when Eponine died. None of the guys solos made me cry, but all in all it was such a great job by those actors and I will buy this movie.
Fudge Brownies from
this recipe.
It was a little too gooey for Tim, but when I had finished the whole pan throughout this past week, it was heavenly. Gluten/sugar free and vegan!
3- Favorite Song of the week
Yes I am addicted to this song, and it comes from the Breaking Dawn Part 2 soundtrack. Nikki Reed and her hubby are a singing duo and I love their sound! Embrace the cuteness.
So one of the nights this week we just couldn't stop laughing because we kept making "thats what she said" comments. But we were really trying to come up with ones that you couldn't really use! And every time I said something to stop so we could sleep, the jokes kept coming. It really was a fun pillow talk that night.
This was hard to decide. Either the denim shirt paired with my plaid skirt
or
my new years eve outfit with silver sequins!
I'll let you decide which was your fav
Have a lovely friday!!!